Our Customers
Our loyal customers are at the root of our success.
I've personally been laying sod for many years and I've grown sod myself, so I'm particular about the varieties I use. For example, I'm excited about some of the new varieties of fescue that are easy to lay and also have some desirable characteristics of bluegrass bred into them, like rhizomic tillering, which helps a lawn repair itself.
Fast Grass puts a lot of effort into selecting the best varieties that will result in the highest quality sod.
But the main reason I do business with Fast Grass is their impeccable service. They have never, ever failed to deliver what they promised, to the right place, at the right time.
John Kroger, Owner
Logan Valley Sod
Bennington, NE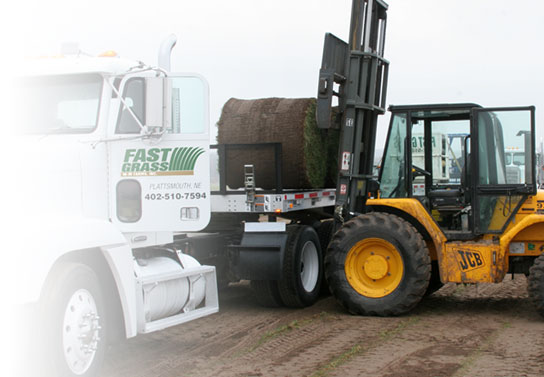 Our family has been in the landscaping business since the early 1970s. About 12 years ago, Fast Grass told us about the convenience of buying sod in big rolls, which we've been using ever since for both commercial and residential jobs.
We like working with Fast Grass because of their prompt delivery. When you call in an order, it's delivered and at the job site when you arrive. And if you've ordered short or long, their dispatcher calls around to other sod layers in their network and coordinates a hand-off. They make it really convenient.
And nobody beats their prices.
Bruce Feiste
Manager Midwest Landscaping
Papillion , NE
Hanson Landscaping Company has grown quickly since we started in 1974. We now lay 80-100 acres of sod per year, mostly for new home builders. We buy sod from Fast Grass because they can handle our volume, and they make it convenient. We can place an order in the morning and take delivery the same day. Fast Grass keeps pace with our business.
Mike Hanson
Owner Hanson Landscaping Co., Inc.
Omaha, NE
Business moves fast these days, and our clients expect fast service with quality products. Fast Grass delivers every time for our sodding needs. Their customer service and consistent, top quality sod allows us to keep our clients happy. For 10 years we have specialized in finish grading, sodding and building retaining walls. Fast Grass is our sod supplier of choice and always delivers for our business.
Paul Fraynd
Owner Omaha Friendly Services
Omaha, NE
I started my company in 1999 with one good contract and grew from there, and Fast Grass has grown with me. Their service is awesome, and Fast Grass offers high-quality sod that is thick, mature and easy to install. Customers love it, and many of them specifically request that I use Fast Grass' sod.
Jim Rolfs, Owner
Rolf Sod Company
Omaha, NE
We have been in business since 1997 and have always relied on Fast Grass to be our number-one sod supplier. They are a reliable company and we always appreciate their ability to follow through with our requests in a timely manner. They are always on the cutting edge of technology with the sod varieties and equipment that they use. That makes their sod weed-free with good color, which means our customers have healthy lush lawns. We wouldn't want to work with anyone else.
Chad Heinert, Owner
Green Side Up Sodding
Papillion, NE